In 2017, Canada is celebrating its 150th birthday. The country is experiencing extra joy this year due to becoming one of the strongest economies in the world in recent years. In April 2017, Statistics Canada reported that the economy grew at a monthly pace of 0.2% and 3.3% over the last twelve months.
In addition, the Bank of Canada released survey results from business leaders indicating that Canada faces a more promising future than since 2011. BecomeaCanadian is an immigration service that provides support to foreign nationals wanting to move to Canada to start a new life.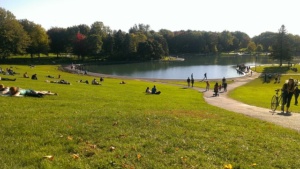 The second quarter of 2017 is projected to grow at a rate of 2.5-3%, which should be very doable considering the 3.7% expansion in the first quarter.
According to the head of capital markets economics at Bank of Nova Scotia, there aren't many other countries in the world that can even begin to compare to the growth seen in Canada this past year. For immigration experts such as BecomeaCanadian, this is hopeful news to foreign nationals looking for jobs in Canada.
What is most amazing about Canada's booming economy is the struggle that they had briefly experienced in recent years after global oil prices dropped. The economy struggled for a while, forcing banks to loosen policies and lower interest rates. For the first time since 2010, however, banks are now looking to raise the benchmark interest rates 0.5%.
With all of this happening the same year as the country's 150th birthday, there is much cause for celebration. Avery Shenfeld, chief economist at Canadian Imperial Bank of Commerce, said, "It's happy birthday news for the Canadian economy." Contact BecomeaCanadian today to learn if you are qualified to apply for one of the Canadian visa programs.