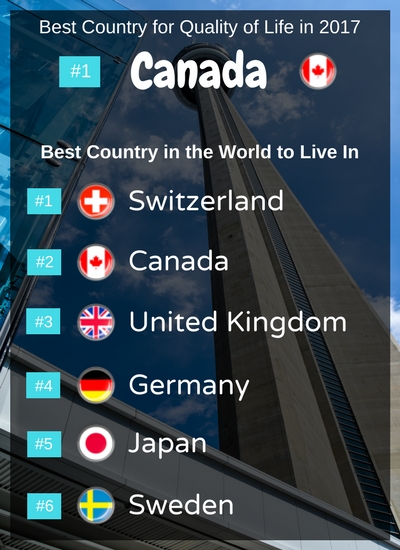 Canada claimed the title of first in the world for quality of life in March 2017. Nearly 20,000 educated elites, business executives, and mainstream residents from 80 countries around the world took a survey to choose the ranking of several countries.
The survey consisted of nine primary categories and each category was broken down into diverse elements. Citizenship, Entrepreneurship, Adventure, Cultural Influence, Heritage, Open for Business, Movers, Power, and Quality of Life were the categories that made up the nine major categories for the survey.
Switzerland took first place overall, and Canada was ranked the second best country in the world. Coming in behind Canada were the United Kingdom, Germany, Japan, Sweden, the USA, Australia, France, and Norway. For information on immigrating to Canada, contact BecomeaCanadian today.
Several determinants were used for the Quality of Life category: A Good Job Market, Affordable, Economically Stable, Safe, Politically Stable, Well-Developed Public Education System, Family Friendly, Well-Developed Public Health System, and Income Inequality. Out of all 80 countries appraised, Canada took first place in front of Sweden, Denmark, Australia, Norway, Switzerland, Finland, Netherlands, New Zealand, and Germany. BecomeaCanadian is available for information on student visas, family sponsorships, and Express Entry candidates. This full-service firm is ready to help you.